Main reason: price. Following is the comparison between the US and Canada for the model (2.5 Limited) I want to buy.
Buy from US
You can get detail US model and package information from
http://www.cars101.com/subaru/outback/outback2012.html
.
It has more detail than the official Subaru website.
2012 Outback 2.5i Limited with Moon Roof Package(CDF-04)
US$30,014.00
Van Bortel price including freight and PZEV (Partial Zero Emission Vehicle)
Moon Roof Package includes: Power tilt/slide moon roof, back-up camera with display built into auto-dimming rear-view mirror w/ Homelink.
Accessories I added include:
US$46.00 Rear Cargo Net
US$62.00 Rear Bumper Cover
US$100.00 Splash Guards
US$371.00 Wheel Arch Moldings
US$50.00 Rubber Mats
US$356.00 Remote Engine Starter
--------------------------------------------
US$750.00 Canadian Export Surcharge
(was $500 a year before and no such charge couple of years ago)
US$110.00 NY Fees
--------------------------------------------
US$31,859.00 TOTAL(Without Tax)
--------------------------------------------
Canada Tax (13%) 4141.67
--------------------------------------------
US$
36000.67
TOTAL
Import to Canada also needs to pay around CAD$220 fee (RIV fee)
Note that Front underguard is included in US's package but not in Canada's package.
Buy from Canada
For similar configuration, following is the web price from subaru.ca:
US price:
USD
$
36000.67
Canada price is
: CAD $43674.16
(before negotiation, includes $1500 cash discount
)
There are about $7600 difference. Of course, the Canada price is before negotiation. But even you can reduce $3000 through negotiation, there is still have around $4000 difference.
Difference between US and Canada Model
The above configurations of US and Canada are similar but there are some differences:
1. Audio and Communications
US model uses Harman Kardon premium audio system with 4.3-inch display, subwoofer and 440-watt 9-speaker.
Canada model uses Pioneer AVIC - X9310BT in-dash navigation/audio system with colour touchscreen, smartphone integration and DVD playback. It only has 6-speakers.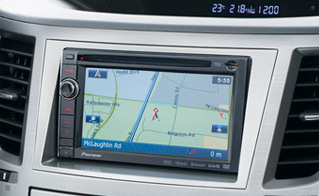 Canada's model has GPS navigation and touch screen. But US model has more speaker (9 vs. 6) and subwoofer. The Pioneer system feel like after market.
For me, I prefer the Harman Kardon since I can spend 200 dollar to buy a better portable GPS with life time map update. I do not like the after market feeling of the Pioneer system. Interesting thing is that Canada model just switches to Pioneer system in 2012 model. Before, they use the same system as US.
2. PZEV package
Partial Zero Emission Vehicle package is not available for Canada's 2.5 limited model (only available for Convenience model).
For New York state, PZEV package is mandatory and costs US$300.
It is hard to say if this package is useful or not except making you think you are contributing to protect earth from global warming. Not sure if it will cause problem in the future if the PZEV package has problem.
3. Unit Display.
US model's speedometer display both mile/hr and kilometer/hr but kilometer is in smaller font. Make sure don't take mile for kilometer since this is not a excuse for speeding.
Also, the ambient temperature, driving range, fuel economy (average and real time) are all in US unit (Fahrenheit, Mile, MPG). This can be be easily change to metrics unlike other model (Toyota provide a button to switch). So you need to get used to this.
For temperature, you can just remember several key points: 0C- 32F, 20C - 68F, 30C- 86F. 40C - 104F.
Also remember 1C is about 2F.
4. Color
For some unknown reason, the color combination is also different between US model and Canada model. For example, for exterior color of Satin White Pearl, US's interior is ivory but Canada's is black. I like Satin White Pearl with ivory interior. That's another reason I bought from US besides price.
5. Subaru Badge of ownership
For US model, you can order free badges from:
http://www.subaru.com/enthusiasts/badge-of-ownership/index.html
.
You can mail the badge to your friends in US or to a US border mail box like (
http://cbiusa.com/
).
Warranty
Warranty may be the biggest disadvantage for Canadian to buy from US. During the warranty period, you have to repair at Canadian Subaru dealer and then apply for a reimbursement from US Subaru. Detail information can be found at
Canadian Warranty Coverage for US bought Vehicle
.
For me, this is not a big deal due to two reasons: First, the chance of repair during the warranty period is small, considering Subaru is a pretty reliable vehicle. Second, I can still get the money back although needs to pay first.