Want iPad to be more educational to kids than a game machine? National Geographic Kids is a good start.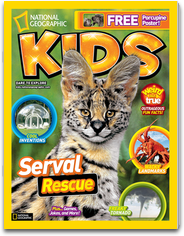 For $1.99 a issue, I think it it worth the money. It is not just a magazine. It is interactive, with sound, video and animation. Also have some fun games for learning. Most important, kids actually like it.
A good news is that the issues after May, 2012 will be the high resolution version which utilize the new iPad's retina display. So it will be very clear and sharp, maybe comparable to paper magazine.
To order it, just click Store button on your Newstand and search
National Geographic Kids and install it. After that, you can have a free sampler and the option of order one issue for $1.99 and one year (10 issues) for $19.99.
If you want to subscribe for National Geographic magazine (pager), here is the link ($16 for 12 issues).
You can also get the iPad version for free.
https://w1.buysub.com/pubs/NG/NGM/57851_NGMDomDirect_12_Facebook.jsp?cds_page_id=57851&cds_mag_code=NGM&id=1335893089474&lsid=21221217162022430&vid=4